Trick and Treat: Guava Leaves
Trick and Treat: Guava Leaves. (Dr. Gray: The Science Behind the Secret… Alternative Medicine, Scientifically Based Natural Remedies, Treatments and More…)
Hello, I suggest you a game, what does it consist of? …
Well, we make a deal and I'll give you a trick, or … a Secret, you choose what to call it. The deal is simple: If you find my secret useful, if you haven't heard of it before, and if when you try it you discover an unexpected benefit, then … Comment and Share it, remember that many like you are also looking for Secrets, and the Trick … Well, I give it to you in advance.
I know I can trust you, tireless reader, seeker of secrets.
Today's trick is simple, common, frequent, but powerful. The best secrets are like this, they are hidden in plain sight, taking the appearance of common things, silently waiting to be found. As the plant whose secret I show you today, I am talking about La Guayaba, but not about the fruit, delicious and rich in vitamins, nor about the strong and flexible stem, I mean the leaves, especially the most tender ones.
What, did you already know? Yes of course, everyone knows them and they are sincerely used for everything, their uses are well known, you click on the search engine and there are recipes to fill a book, for indigestion, colic, pain, to perfume food, to store jams, even for The insomnia.
Now … there is a Secret, a use, that does not appear in the Internet search engine.
How many times do our little ones hit each other, doing some of their mischief, and lose a little skin that becomes infected and oozes? Or our elders, who suffer from a chronic disease that makes it difficult to heal sores and ulcers? … Or ourselves who suffer a skin injury throughout the day and realize that it has become infected?
Trick and Treat: Guava Leaves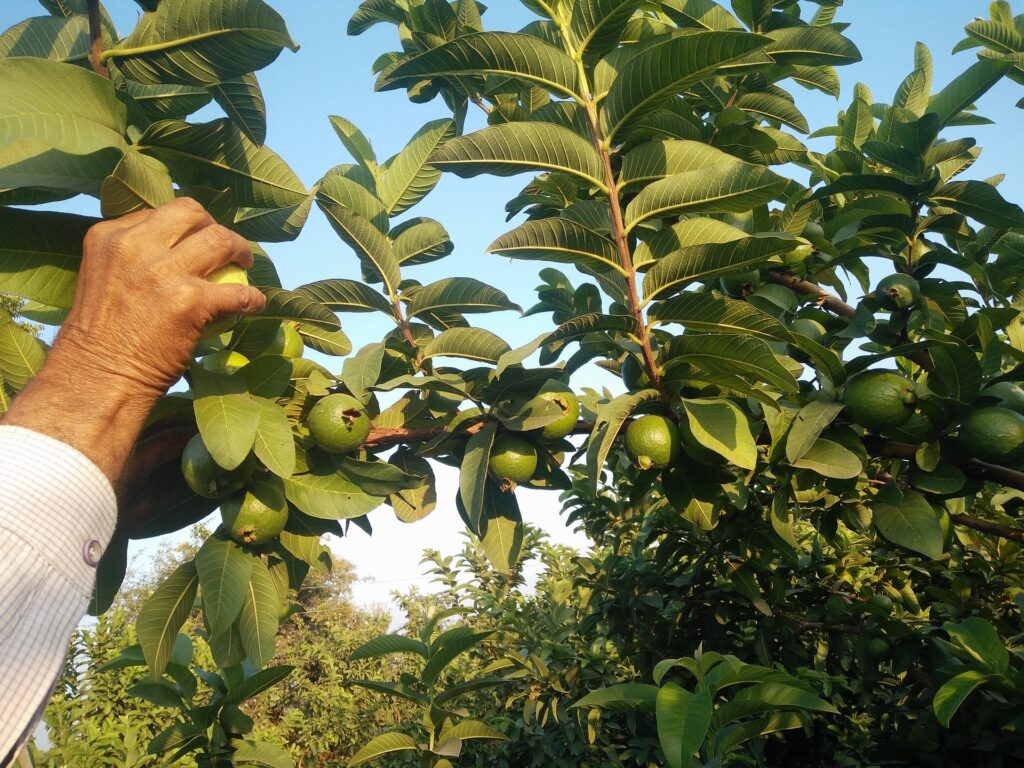 Well, for that there are thousands of medicines, for God's sake, nothing so simple than smearing some antiseptic solution and so happy. But … these medications hurt, and cause burning and irritation or we simply cannot use them because we are allergic to some of their compounds and … HERE … here is the reason for your search.
It turns out that the most tender leaves of the Guava have a very powerful Natural Antiseptic property that does not burn, irritate or damage the skin, and not only that, it is drying as well. Why is it important that it be blotting?
Because…
The skin must be cared for in relation to its condition, if it is wet, it must be dried and if it is dry, then hydrate it … Cuts, bruises, suppurative lesions and ulcers on the skin are always considered wet, so we spread creams and not we see improvement, since the creams moisturize, and if we add more moisture to a wet lesion, what we get is then… A Puddle!
But let's not stray from the topic. The secret I told you about is an infusion of the most tender leaves of the Guava, whose antiseptic and drying properties you will find very beneficial. The recipe is simple, long-lasting, and very easy to apply.
Trick and Treat: Guava Leaves
As we have spoken, the most tender leaves of the Guava are used, no matter what time of day we collect them.
How to recognize them?
Well, they are the bright green ones, the ones that you can appreciate the least punished by the sun … I am not talking about new leaves, nor adult leaves, it is a middle ground, you do not feel bad if you spend a little work to make this distinction the first time , home remedies are perfected with time of use, you will see that every day it becomes easier for you to find the exactitude in the preparation.
Well, we are going to prepare our remedy for the proportion of one liter of tap water, and for each liter we will collect two handfuls of young leaves, yes, handfuls, the exact amount of leaves that will fit in a fist.
Why? Well, because it is the body measure for your remedy, here is the Secret of this Formula, the one that I had promised you.
Generally home remedies are personalized, we prepare them for ourselves or for a family member or friend, the proportions of this formula are very particular, your body mass can be more or less wide in relation to that of another person and the proportion of the medicine that you will extract from the plant in balance to what your body needs to heal itself.
Trick and Treat: Guava Leaves
So let's continue our recipe …
We already have a liter of running water and two handfuls of young guava leaves. We start by placing the water on the fire, in a metal container with a lid, in the meantime we will wash the selected leaves and cut them into pieces. For that we can use a knife from our kitchen or simply our hands, once the water is boiling, we will do the infusion ritual.
I call it that since for the preparation of the leaves we must be aware that they are fragile and also the medicine they contain, if we do not achieve discipline and synchronization when preparing it, we can ruin our remedy, with the consequence of not obtaining the effect wanted.
The infusion ritual
It consists in that once we have the boiling water, 100 degrees Celsius for the most advanced cooks, because in synchrony we uncover the container, pour the leaves, cover the container again and turn off the fire.
This step is important, without haste but surely, those seconds in which the leaves enter the water we cover and turn off, it is the necessary time from the plant to the fire. Then we wait for our remedy to reach room temperature and filter with a strainer or handkerchief.
The preparation lasts 3 days, with or without refrigeration, and our magic potion must acquire the color of the leaves before being collected.
We already have our formula, we only have to know how to use it, for this we will need a handkerchief, a gauze bandage, or simply a cotton ball, and we will make a pad, which we will call a dressing, we place it in a clean container and we will spray it with our remedy, until it is well impregnated.
Then we will apply this dressing directly on the area of ​​interest, say ulcer, sore, cut or scab that we need to disinfect and clean. This process will be necessary for 20 minutes, 3 times a day.
Did you like it? Feel free to try this Secret, you know you can trust, the benefits will be appreciable in less than 24 hours, and the Secret is yours for eternity, but… remember… "We have a Deal."
Trick and Treat: Guava Leaves. (Dr. Gray: The Science Behind the Secret… Alternative Medicine, Scientifically Based Natural Remedies, Treatments and More…)
---
To See More of Dorian's Secrets
Beauty & Health:
---
The Dorian Chronicles:
---
Horoscopes:
---
You May Also Like:
Latest News:
---
Fashion:
---
Ephemeris and Curiosities:
---
Follow Us: