The Arch of Glory - One of your most attractive parts!
The Arch of Glory (Everything you need to know to burn localized fat, lose weight and strengthen muscles in 10 minutes)
Dorian, August 31, 2020.
Images Credits: Pixabay
The Arch of Glory: One of your most attractive parts! And between us … I'm going to ask you a question:
How many times a day do you pass a car in front of you and look at your "tail" in its windows?
Mmm…. You've probably lost count, am I right?
In my previous article I taught you a posture that, beyond its mere effectiveness to lose fat, shape and strengthen certain parts of your body, connected you with the Universe creating a positive energy that cleansed the entire WAVE OF POWER that is behind your back. , in order to build a clean path in YOUR FUTURE.
Today I am going to teach you two positions that, as I always say in all my posts, you can do it at any time, at any time and in any place where you are.
With both you will get (in addition to the spiritual plane that I explain in detail in each of them):
Firm, round and elevated buttocks…
Burn fat from your abdomen and back…
Strengthen your quadriceps and hamstrings…
A substantial improvement in your spine, cervical and lower back.
The only thing you need for this first pose? Stand. Just like the image you saw at the beginning of this article.
One of the important things to achieve 100% of your goals with this first position is to do it little by little …
Go slowly arching your back and always listen to your body, never go beyond where he is telling you.
The second important point for the perfect scope of what we want to achieve is that as you go backwards, you focus on the fact that you have two objectives:
Getting to look at everything behind you, as if you want to see something or someone who is just standing behind you.
With your hands clasped, feel that you are holding the most precious gift that they can offer you in this life, and that, precisely, you have just received it from that person, just at the key moment where you reach the limit of your body in that position.
Never forget that we are connected with the Universe, and that, through our mind, when we know how to intertwine it correctly, we direct orders to our body and everything around us that are carried out with all the force that this power exerts.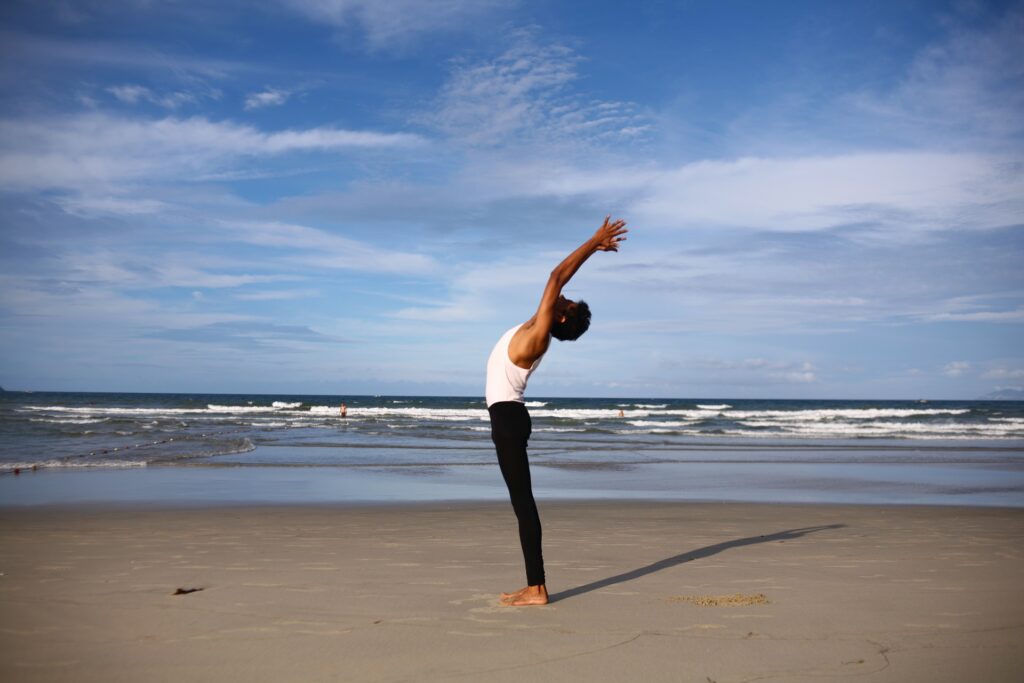 In case the limit of your body does not allow you to go as far back as the first image shows you, do the variant that I show you in the second.
And in case you have not noticed yet, in this there is a detail that is of the utmost importance …
Unlike what I suggested you do in the first one, (which was to focus your mind on that you were holding something very precious that the person behind your back had just given you), in this one you are going to leave your hands open like waiting to receive that GIFT that that person has not yet given you.
Life is full of secrets and mysteries that our mind is not normally able to decrypt, but if that is your deepest desire, here are all the keys that each of them will reveal to you.
Today's second pose is exactly the one you just saw in the third image.
And I don't want excuses that you don't have a mat or any other that may come to mind … No! Mats, pads or any type of support, beyond providing a certain comfort, are part of a market in which all they do is make money, and spend it yourself!
In this posture you will focus your mind on what you are going to inspire a breath of life that comes to you, like an exquisite flower aroma that will penetrate your nose invading your lungs and every internal part of your body.
You will inhale and exhale only through your nose, and you will enjoy it as much as when you put on the best of your perfumes.
in both postures of the arch of glory I recommend that you stay for about 20 to 30 seconds, no more, and, if you have time, you can combine them with the exercises in my previous posts.
Do you see? They not reach 3 minutes of your day to day if you were to perform all the exercises that I have shared with you so far.
Remember that one of the wonders of this method is that it adapts perfectly to all those people who do not have time, but who want to look beautiful and healthy.
I say goodbye to you "for now" … hope it has been useful and to your liking everything that I have shared with you today from my most sincere affection and good wishes 🙂
I would love to hear about your experience with this method if you have already started to implement it, so please do not hesitate to tell me any details or questions you have.
Sending to you a big hug and I wish you a very nice day!
DORIAN.
The Arch of Glory (Everything you need to know to burn localized fat, lose weight and strengthen muscles in 10 minutes)
---
To See More of Dorian's Secrets:
Beauty & Health:
---
Gray MD:
---
The Dorian Chronicles:
---
News & Entertainment:
---
Horoscopes:
---
Astronomical Calendar:
---
Follow us: